Compression fitting reducer kit.... How do they fit together!? HEELLP!!
---
tegwin

-

28/12/11 at 05:41 PM

Seems plumbing is the flavour of the day....Can anyone help me? Currently installing a new hot water cylinder as the old one split! One of those really unpleasant jobs that results in water everywhere.....

I am trying to convert a 28mm pipe down to 22mm so I can connect it to the top of the tank

The only way the guy in TPS said I could achieve this was to buy a 28mm straight connector (compression type) and use a reducer kit to step down to 22mm...

Has anyone ever used one of thse things before?

I cant figure out which bit goes where? Logic dictates you need a large olive for the 28mm bit and a small one for the 22mm pipe, but you cant fit both under the big nut to compress it all....

Really at a loss here, can anyone help? I want to get this finished tonight so I can put the heating back on!!!

These are the parts I have: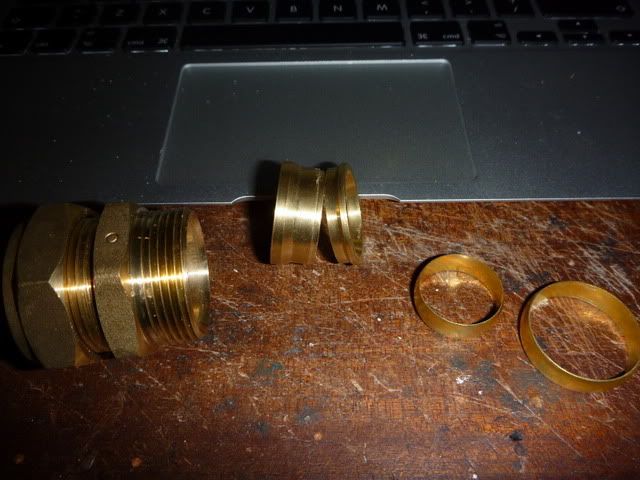 ---
fazerruss

-

28/12/11 at 05:53 PM

Not sure what them 2 rings are in the middle but normally the reducer goes together like any standard compresion joint comprising of the main body, 2 nuts and 2 olives.
---
clanger

-

28/12/11 at 05:54 PM

this give you any clues?


---
Stuart_B

-

28/12/11 at 05:56 PM

hi there, you do not use the 28mm olive, but the thick bit goes in to the body, and then put the nut on the 22mm pipe, then put the smaller part in the middle in the pic on the pipe, then the olive, on and connect.

will draw it up in paint, if you want?

stu
---
tegwin

-

28/12/11 at 07:28 PM

Thanks for the seriously rapid reponse guys. I now have it assembled... so fingers crossed nothing leaks this time :-)
---
nearly done

-

28/12/11 at 08:45 PM

Proper plumbers would have sold you a Yorkshire number 68 (straight boiler connector) and a Yorkshire number 6 (reducer) so no messing around with compression fittgs.Better if you can wield a blow torch.

Cheers.
---
tegwin

-

28/12/11 at 10:04 PM

I can weild a blow torch with my eyes closed.... however all my plumbing tools are in Devon..... Was supposed to be having a relaxing Christmas holiday..... never mind eh... all sorted now.... just need to persuade the air out of the pipes :-)
---