Christmas progress on the 20valve turbo
---
b14wrc

-

8/1/22 at 07:20 PM

Hi guys, havenít posted in a while and Iíve had limited workshop time last few months but over the last two months have made some progress. Still a mix of partial welded and mock up, but I am hoping to get the car off the table in a month or so and actually sit in it on its own wheels for the first time ever!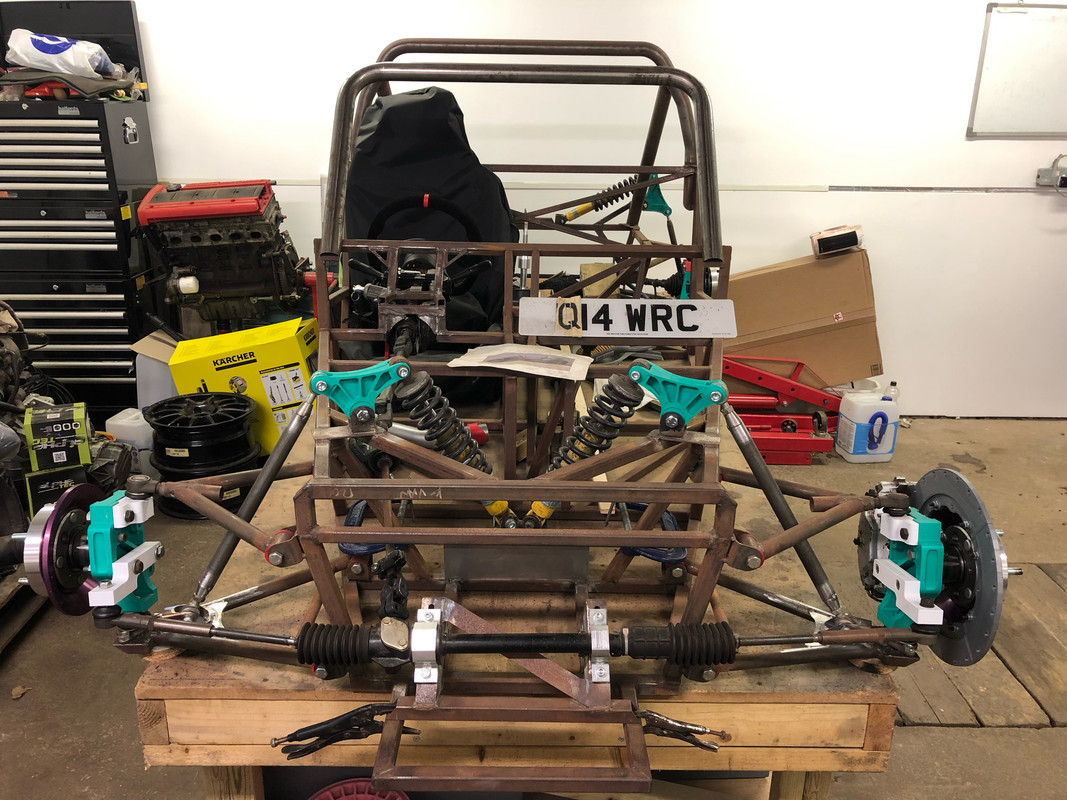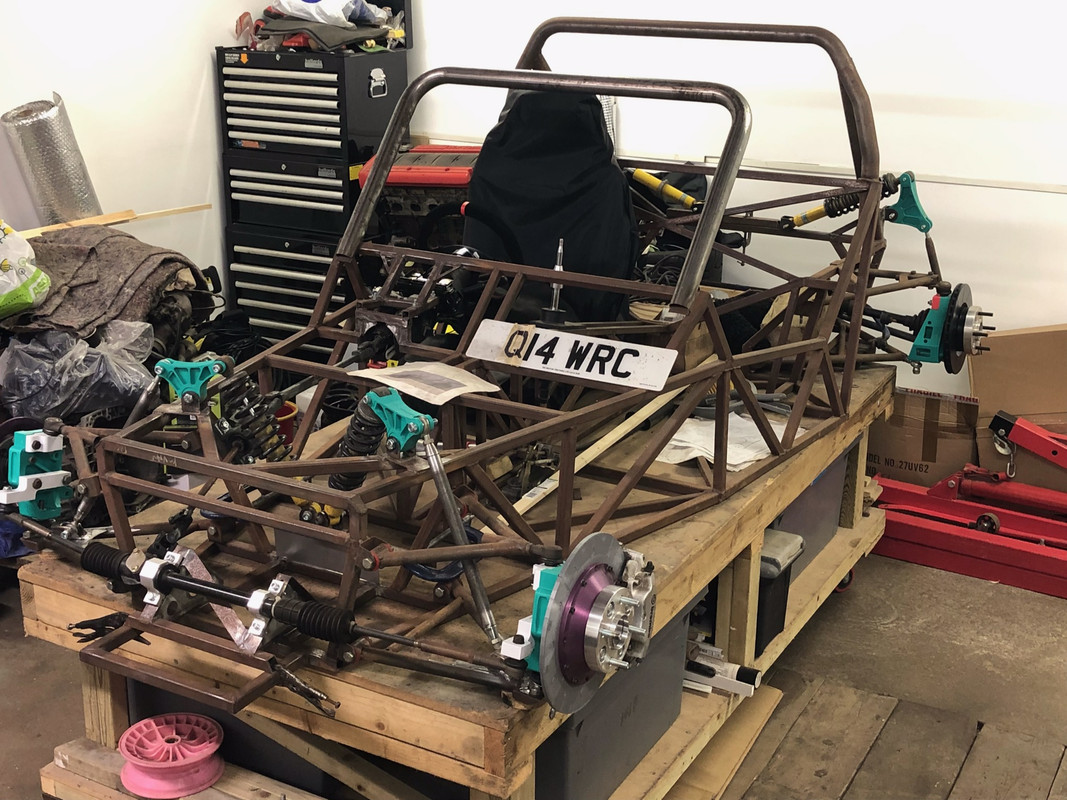 Rob
---
pigeondave

-

9/1/22 at 04:29 PM

Very nice front uprights, where are they from please?

Is there any commentary on the idea for the suspension set up?
---
b14wrc

-

10/1/22 at 12:10 AM

Hello pigeondave,

Originally I based the design on cortina mk5 front hubs and fiat coupe 20vt front hubs for the rear. But these were modified extensively and after many iterations (search my user Iíd) I ended up deciding Iíd rather make my own.

The rears are based on Lotus Elise series 1, but made to suite my design. These will eventually be machined, the green parts you see in my photos are the latest iterations. They are 3D printed, Iíve done all the work myself. I have used the fiat coupe hub flange so my drive shafts match, but found Audi A4 bearings, a bolt on item were almost the same size, a little lathe work will see it all work. Iím running a fiat coupe 16v turbo vented 283mm disc on the rear and have some vauxhall omega twin pots to mount for rear brakes.

The front has evolved from the cortina set up, basically there were several things I didnít like about the old ford set up and I needed to do a far bit of work to overhaul them, so again designed my own, the upright is my own design which uses the original ford upper and lower ball joints. I hated the way the cortina disc mounted on the rear of the hub and always intended to run the fiat brakes, with large discs, so this was always a problem. Iíve ended up using a Fiesta mk 7 rear hub bearing (again bolt on) which allows my escort cosworth group n bells to fit. Iím going to mount a 320mm disc to the bell (the disc is a printed mock up) and the new upright has the correct caliper mountings. The 320mm disc clears my 16Ē team dynamic pro race 1.2s with around 4mm of clearance, was a right job developing that, but I am pleased with it.

Youíll note spacers, the rears uses a PCD adaptor to convert the fiat 4x98 to ford 4x108 and the fiat disc is sandwiched between hub flange and spacer. My rear wheels are 17Ē x9j with a big off set, so plenty of space.

The front has a 25mm spacer, this was to clear the Brembo caliper off the rim ridge on the inside but also with the alloy cosworth bells - the fiesta studs were a bit on the sort side, this set up works a treat.

Final track to wheel base will be spot on 1:1.6, I am running 16/45/225 front and 17/40/255 tyres.

I always wanted inboard suspension, the main reason is for adjustability, I have more control over the ride height this way, and will corner weight it eventually, currently planning on using Lotus Elise S2 Bilsteins and on the rear a VX220 turbo rear anti roll bar. I am planning on making my own front anti roll bar, but I havenít figured that out yet. Plenty of Lotus upgrades at a later stage.

The plan is over the next couple of months to print the final rear hub carrier and finish the welding of all the components on the suspension, from there Iím going to set the car on the ground for the very first time on its own wheels and see what it looks like. I had the engine in last year, one of my 3D printed hubs supported the weight of the engine and gear box, so I am confident for rolling chassis the hubs will be strong enough. This year once itís a full rolling chassis Iím going to get the engine finally fitted and get it running. I have a 1000kg scale for my lifting beam, so will be interesting to see what it all weighs. I have two full engines, wanted to build a 2.4 20vt but canít find a complete bottom end to play with, figuring Iíll stick with 2.0 for now.

Hope thatís useful, I know there will be many differing views on my set up choice, but my outlook on this project is I just love the challenge of the engineering and prefer to do my own thing with it. Body work is going to be full carbon, canít wait to start making that!

Rob
---
pigeondave

-

11/1/22 at 01:44 PM

Will you be looking at shimming the front uprights to change the camber so that it doesn't affect the toe?

Have you looked at Saab hubs? Their 4 stud is ford fitment and you get a driven hub at that I believe. But, I think that you have to machine the centre a little smaller to get over ford wheels. So very similar to the MK7 fiesta rears you're using.
---
b14wrc

-

11/1/22 at 03:08 PM

As for changing camber, I will be changing the top ball joint slightly to be fully adjustable, needs a sleeve adding to the tube that supports the bug the ball joint threads to. The rear also has similar adjustment. If when I get the car on the ground I find the camber is off, I can remake the top mount as itís bolt on.

I have noted my steering arms are far too long, on full lock my wheels are at drift car angles, I will shorted these by 10mm and check again with the wheels on that the steering angle is appropriate.

Not looked at Saab hubs, I wanted to use Ford wheels as the fitment is pretty common but finding some solution for the drive shaft other than fiat coupe was challenging. I donít see the bolt on spacer will be an issue, all bolts up solid.

Rob
---
b14wrc

-

11/1/22 at 03:15 PM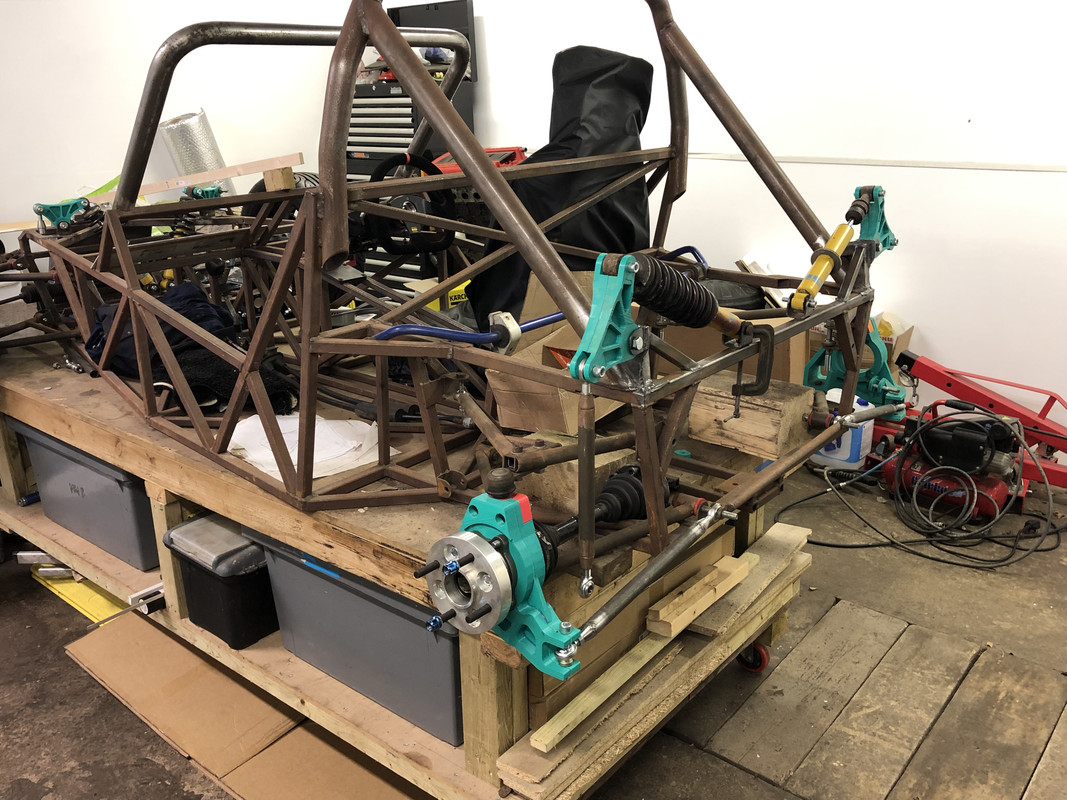 open source screen capture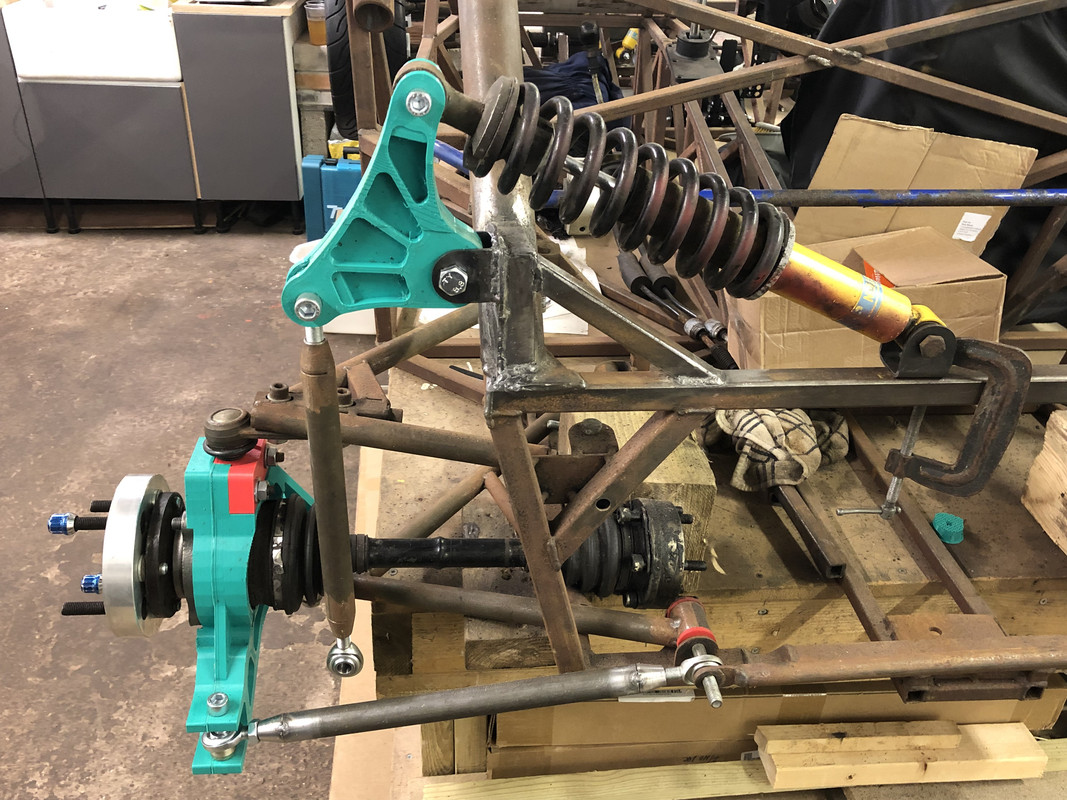 This is the rear set up as described. Rob
---
pigeondave

-

11/1/22 at 06:03 PM
quote:

---

Originally posted by b14wrc


Not looked at Saab hubs, I wanted to use Ford wheels as the fitment is pretty common but finding some solution for the drive shaft other than fiat coupe was challenging. I donít see the bolt on spacer will be an issue, all bolts up solid.

Rob

---


Yeah I mentioned Saab hubs as their 4 stud is the same as ford. I believe that AB Performance were using Saab hubs with the centres machined down so ford wheels would fit for the Arion uprights.

I was looking for a lightweight upright solution. There was a thread somewhere where the guy was a mate of cornering force Motorsport. He had the uprights watercut and then machined. He used a bolt on hub too.

I was looking for a ford fit bolt on which was able to be driven and also had an abs sensor. Couldn't find one. Closest was some form of 4stud Saab.

Looks good.

Keep it up
---
b14wrc

-

11/1/22 at 06:33 PM

Thanks, I see what you mean.

After a lot of research I found the Audi wheel bearing matched the fiat drive flange, and engineered my hub carrier to work. The proof in the pudding will be when itís all bolted up and pushed around for the first time! Iíll update on that milestone.
---